AGSA Policies
Version: 12/27/22
The current AGSA policies are provided for your convenience. Additionally, a copy of the current Tuition Payment Calendar can be found below.
2023 Calendar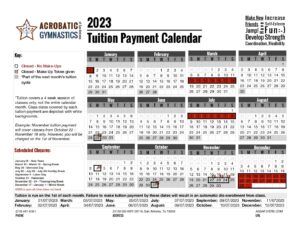 Payments and Fees
Acrobatic Gymnastics of San Antonio operates on a four week tuition cycle, however, tuition will be automatically deducted from your account on the 1st of each month. To ensure tuition fees are paid on time, AGSA does automatic billing. Tuition and any related charges will be drafted from the account provided. If any member does not provide account information, or does not want the account on file to be deducted from, a one time payment may be made before the first week of each four week tuition cycle via the parent portal, or facility office. Any Bank Draft or check that is declined will result in a $35 insufficient check fee. If, for any reason, we are unable to charge the account on file, the member will be notified, and will be given five (5) days to provide a new payment method before the student is automatically dis-enrolled from classes.Tuition is non-refundable, and a 30 day drop notice must be provided in the parent portal.
Membership Fee
All members are charged an annual membership fee upon enrollment into programs at our facility. This payment is valid for one anniversary year, and must be renewed one year from the date it was last paid. Currently, there is a $45 single student membership, or a $30 membership fee for each additional students. This is a non-refundable fee.
Makeup Policy
If a student is unable to attend an actively enrolled class and have input their absence 24 hours in advance in the parent portal, a make-up token may be received through the portal. Only one make-up class will be permitted per four week billing cycle, and make-up classes are not allowed for previously scheduled make-ups that could not be attended. Tuition for the active billing cycle must be paid in order to schedule make-ups as well as being actively enrolled in a class to schedule a make up class. Because tuition is for reserving a spot in class, missed classes will not result in pro-rated tuition. Further, it is not always guaranteed that there will be space available to schedule a make-up class. Missed classes do not result in prorated tuition or refunds. (Performance Team and Acro Competition Team does not receive make ups)
Drop Procedure
PARENTS MUST DROP THEIR ATHLETE IN THE ONLINE PARENT PORTAL. PLEASE NOTE: You will continue to be billed for classes WHETHER OR NOT YOUR STUDENT ATTENDS CLASS, until the time you drop your athlete in the online parent portal. Do not depend on your child to notify us of their dis-enrollment from class! Failure to make tuition payment by the first class of each new session will result in an immediate dis-enrollment from classes. All accounts must be current by the first class of each four week cycle.
What to Wear
Students may wear tucked in t-shirts and shorts, or work out pants – No blue jeans. Girls may wear leotards if desired but it is not required. Long hair should be pulled neatly away from the face, and no large bows or hair ornaments should be worn. All students should be barefoot, or have activity-appropriate footwear if medically required. Jewelry should not be worn during classes. PLEASE LEAVE ALL JEWELRY AT HOME. The facility staff is not be responsible for ANY items that may be lost or stolen. Be sure your student's personal items are marked with their name.
Arrival and Pickup
Be sure your student arrives no more than 5 minutes before his/her scheduled class time, and is picked up promptly after class. AGSA is not a day care licensed facility, and is not responsible for students before or after their scheduled class. If you will be late picking up your student, AGSA staff must be informed. Always instruct your student to wait inside the building, and escort them from the building to your car. Do not take a chance on your student running to and from your vehicle. Please drive slowly and carefully in the parking lot, as young children may be crossing.